PRESS RELEASE
'PORT-IT VANIR OBTAINS INNOVATION ENDORSEMENT* CERTIFICATION'
'vanir UTM  performs all the features that it claims '
Port-IT reaches another milestone with its Security solution Vanir Unified Threat Management. After being penetration tested in the past by Secwatch and obtaining an official Rina certification in 2022 we can now proudly say that we have also obtained the ClassNK certification.
Third-party organization ClassNK certifies innovative functions and issues certificates for products and solutions for enabling the smooth deployment of these products and services in the maritime market.  Port-IT received the certification after a detailed verification and validation process, with the outcome that Vanir performs the features that it claims. Obtaining this certification proves once more the effectiveness of the Vanir solution for the maritime industry.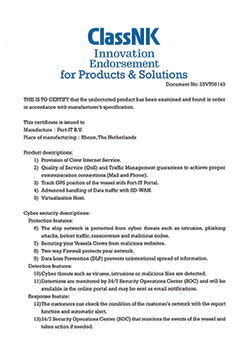 PROTECT – DETECT – RESPONSE
The features used to validate the effectiveness of Port-IT's Vanir service are divided into 3 subcategories: protection features, detection features and response features.
Protection features; The ships network is protected from cyber threats such as intrusion, phishing attacks, botnet traffic, ransomware and malicious codes.
Detection features; cyber threats such as viruses, intrusions or malicious files are detected and detections are monitored by 24/7 Security Operations Center (SOC) and will be available in the online portal and may be sent as email notifications as well.
Response features; the customers can check the condition of their network with the report function and automatic alert. Furthermore the SOC that monitors the events of the vessel take action if needed.
Port-IT will continue to provide effective and innovative solutions for the maritime market ensuring ships are safely connected at sea – wherever, whenever.
* Innovation endorsement: a third-party certification service by ClassNK for supporting innovative initiatives. The objective is to promote the spread and development of many innovative technologies that share and utilize data from ships in order to further improve environmental protection and safety at sea, and to support sustainable development as outlined in the SDGs'.