Let's team up!
"Alone we can do so little. Together we can do so much."
Over the years, Port-IT has established very strong connections with several partners – we are proud en thankful to have such strong relationships with our partners, which all represent a huge added value for our company. 
"Thank you for making the maritime industry a safer place."
Dave Maasland – CEO ESET Nederland
For three decades ESET has been helping people to protect their digital worlds. From a small, dynamic company ESET has grown into a global brand with over 110 million users in 202 countries and territories. ESET's core aspirations, philosophy and values are to help build a more secure digital world where everyone can truly enjoy safer technology. 
Port-IT uses the ESET Antivirus software. This 4-time award winning software utilizes advanced heuristic technologies to provide superior protection from attacks waged by unknown viruses and uses daily updates to stop known virus variants. ESET's Antivirus has not missed a single in-the-wild virus in the prestigious Virus Bulletin tests and was recognized for top efficiency by the AV-COMPARATIVES.ORG proactive detection and performance tests.
Ever since 2013, Port-IT reaches the ESET Platinum partnership. We are proud of the close and fruitful collaboration and the long-term business relation we have with ESET Nederland. 
'Best Security Product of the Year'
Safety at Sea Awards 2019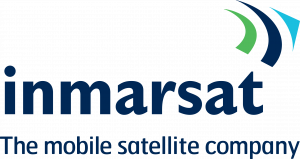 Inmarsat and Port-IT have been co-operating for over 10 years. Our first venture together was the Amosconnect Antivirus. Using a revolutionary update method with unparalleled detection capabilities the Amosconnect Antivirus quickly became the most popular maritime antivirus on the market. Multiple major iterations and improvements later it has kept its position as market leader and innovator.
Fleet Secure Endpoint
A new connected world has new challenges. To tackle these, Inmarsat and Port-IT joined forces again and developed the next generation Cyber Security package on board: Fleet Secure Endpoint. 
Fleet Secure Endpoint has been developed to prevent attacks whilst removing infections and threats throughout the onboard endpoints. With multiple layers of security Fleet Secure Endpoint bolsters additional protection with more security features. It also offers multiple asset management and monitoring options. 
Powerful multi-layered endpoint protection
Advanced monitoring gives users a greater sense of control and awareness over their environment. Fleet Secure Endpoint is powered by the Gartner-recognized ESET Endpoint Security – top rated against known and unknown threats and awarded as one of the best solutions in the market. In October 2019 Fleet Secure Endpoint was awareded with the 'Safety at Sea 2019 best security product' award.
Moreover, Fleet Secure Endpoint covers 10 of the 20 SANS Security controls, which are part of the IMO maritime regulations that will come into force in 2021.
Please contact Inmarsat directly to receive more information on Fleet Secure Endpoint. Here you can find the IMO 2021 Cyber requirements whitepaper.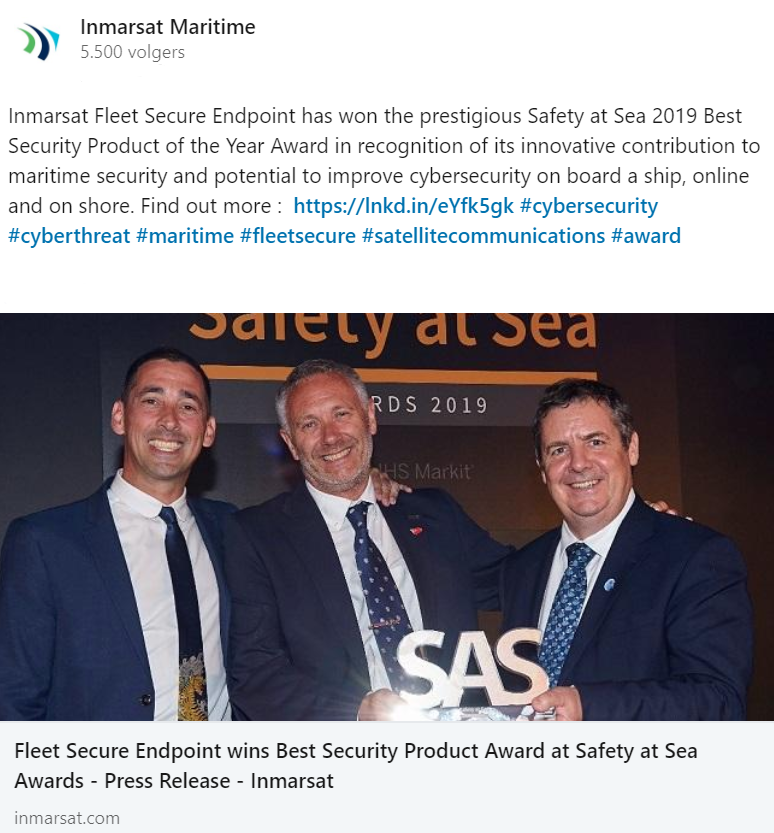 Source: Linkedin Inmarsat

Thomas Schulte Shipmanagement is a leading international bulk and container company/asset manager, offering a full range of maritime services from one source. Operating a large number of vessels that all need a reliable, well-tailored E-mail solution resulted in implementing Port-IT's shore managed OrillaMail.  
"The compatability with all airtime providers on the market, together with the fact that Orilla Mail is an easy to use e-mail solution on both ends, both ashore and on board, are the main arguments why we decided to opt for Orilla Mail", says Oliver Kautz, Quality Manager for TSM. "We have chosen Port-IT as the provided service is great, Port-IT takes care of every problem we encounter and solves it really quickly. This ensures smooth communication and operation of our vessels. Custom made features that were integrated upon request have made Orilla Mail a very well-tailored e-mail system, completely fitting our needs".